16 SEATER TEMPO TRAVELLER HIRE FOR OUTSTATION
16 SEATER TEMPO TRAVELLER ON RENT IN DELHI
When it comes to find comfort in a journey to a place where you plan to spend your vacay time then 16 Seater Tempo Traveller on Rent in Delhi is always the first pick in minds of people willing to travel collectively. Intercity group transfers are always fun when done rightly by choosing the best cab and the best travel service operator in that particular city. Group trips via road in modified 16 Seater Tempo Traveller On Rent In Delhi is always an extracious ride to go through all the adventure one can have being with a considerable number of people. tempo travellers are always a preferred mode of transport for inter city tours especially when looking for a vehicle which can take your group of 16 members to your dream destinations in just few hours from Delhi. North India comprises of great tourist destinations which are all unique in their own ways and offer tremendous tourist spots of various types. Luxury 16 Seater Tempo Traveller On Hire In Delhi to North India gets the best comfort to riders with its full push back recliner seats to keep you relaxed and have fun. Moreover tempo traveller with 16 seats can carry 16 people easily keeping with the social distancing norm as the cab has separate 16 seats and is nicely built with luxurious interior fabrication to give you great lighting effects for your selfie or clicking group photo inside the Traveller. Tempo Travellers Hire is a complete reliable 16 Seater Tempo Traveller provider based in Delhi to serve tourists for a well scheduled outstation group trip. Teenagers eager for a group trip with friends for trekking or camping purpose usually hire a affordable mode of transport that is 16 Seater Tempo Traveller in Delhi and rely on best tempo traveller rental service for a pocket friendly trip that gives great sort of happiness in less budget.
WHY HIRE 16 SEATER TEMPO TRAVELLER
Experiencing a trip in 16 Seater Tempo Traveller from Delhi to other parts of India is worth booking as one should definitely hire tempo traveller 16 seater to come across the worderful pleasure of road travel with a group of friends meeting once in a while or with relatives enjoying the long way road travel to the destinations. Further more tourist destinations like Kedarnath, Badrinath, Auli, Vaishno Devi, Chopta, Manali, Kasol, Jammu, Srinagar, Dharamshala, Dalhousie, Khajiar, Bir Biling are situated on heights and attract lot of tourists for trekking trips, pilgrimage trip and camping as well. People mostly move around to these tourist attractions in groups to enjoy some days in the hills away from their routine life and they always find a private luxury 16 Seater Tempo Traveller cab for a hassle free personal road travel purpose as they cover their journey while having haults in between their trip which keep them entertain and relaxed. Best part of Hiring a 16 Seater Tempo Traveller is no matter where you head towards, the thing matters is the people around you with whom you are travelling as ride with the best 16 members who are love to explore and are fond of climbing new adventurous places. Explore any place in personal 16 seater Tempo Taveller Hire in Delhi with Tempo Travellers Hire most affordable tempo traveller rental packages.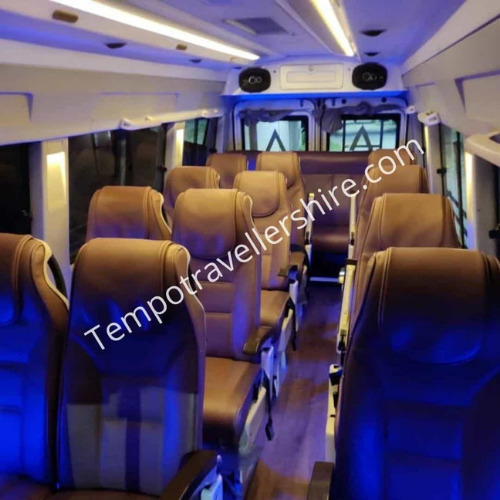 I Booked a Cab For Complete Rajasthan Trip, We got a Great Luxury 16 Seater Tempo Traveller With a Professional Driver. Great Service Thanks!
If You Are Planning A Trip Do Consult With Tempo Travellers Hire And Ride In Their 16 Seater Tempo Traveller On Rent In Delhi Service .
Haad a Great And Enjoyable Group Trip, Do Approach The Company For a Professional Travel Service. Best Cabs And Good Driver Cum Guide.
Frequently Asked Questions
Hire Luxury 16 Seater Tempo Traveller On Rent In Delhi Which Fare Varies From Rs.20/ km To Rs.26/ km Depending On The Tempo Traveller And The Demand At The Present Moment. TEMPO TRAVELLERS HIRE
There Are Two Seates On One Side And 1 Seat On The Other Side In 16 Seater Tempo Traveller.
Moreover There Are 12 Push Back Seats And Sofa Cum Bed For 4 Persons 
2nd option is The 16 Seater Tempo Traveller On Rent In Delhi With Complete 16 Push Back Seats.
Kedarnath is On Great Height But Don't Worry 16 Seater Tempo Traveller Can Ride Your 16 Members To Kedarnath Easily.
Hire 16 Seater Tempo Traveller On Hire In Delhi For A Hassle Free Road Trip To Any Hilly Destination As It Has A Powerful Engine Which Can Transfer Tourists To Any Destination.
When You Plan For Booking 16 Seater Tempo Traveller Hire For Outstation, Do Go For A Luxury One Which Has 
Led TV
Music System
Mobile Charger
AC
Push Back Seats
Ice Box
Ample Luggage Space
16 People Can Easily Travel In 16 Seater Tempo Traveller To Any Part Of India At Much Affordable Price.