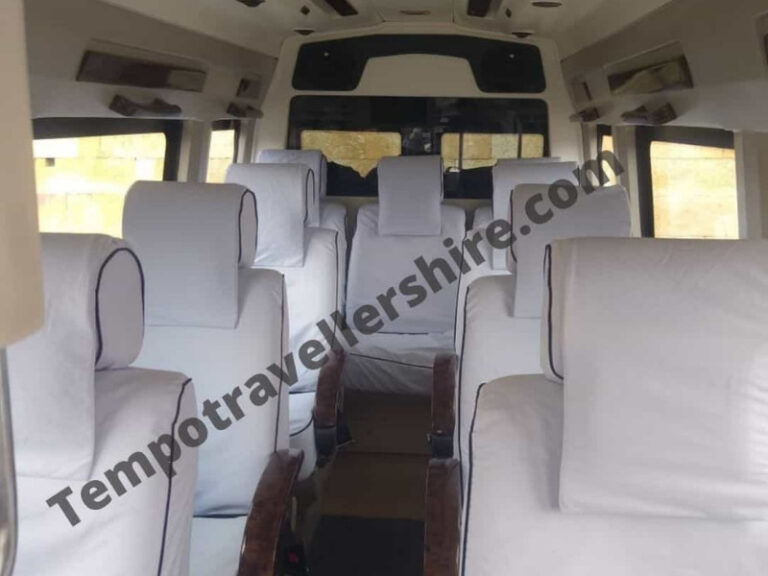 9 SEATER TEMPO TRAVELLER ON RENT IN DELHI
Many tourists are worried to  hire which outstation cabs on rent in Delhi for outstation? so don't worry, Tempo Travellers Hire brings you the most comfotable luxury 9 seater Tempo Traveller on Rent in Delhi for Rajasthan, Himachal, Uttrakhand, Srinagar and many other tourist destinations to make you travel with all the luxury amenities needed for a road trip in tempo traveller cab. Delhi is the capital of India which is known for its immense beauty and the sights it holds to make tourists experience best ancient monuments and historical temples, people all over the world are eager to address the beauty of these tourists attractions by hiring a 9 seater tempo traveller on rent in Delhi which has ample space for luggage over the roof, spacious cabin to enter with full leg space and luxury featuring amenities to  entertain the riders. We as a trustable outstation cab provider ensure full safety when you travel in our fully air conditioned luxury 9 seater comfortable tempo traveller for outstation to keep you relax in any temperature whether you visit Rajasthan or Himachal doesn't matter as our 9 seater cab can be your best travel partner when you ride to outstation via road to explore other cities of India, visiting new places is always a fun with people we like to travel so as a affordable 9 seater tempo traveller cab makes your travel easy to any hill or place where you wish to go. Tempo Travellers Hire is always eager to offer 9 seater tempo traveller on hire in Delhi for corporate tours, trekking tours and family tours as well.
ADVANTAGES OF 9 SEATER TEMPO TRAVELLER HIRE ON RENT IN DELHI FOR GROUP TRIP
Most comfortable mode of transport to hire for long way outstation tour and a best travel partner to entertain your group through out the trip.
Its a compact spacious vehicle with powerful engine to climb every hill easily with boarding 9 passengers and can access any narrow lane where coaches can't enter.
Pleasure of travelling together only comes in a Tempo Traveller on Rent as it can board three families easily and has enough leg space with recliner seats for extreme comfort.
there are many luxurious features available in a  9 seater tempo traveller on rent for outstation which are led tv, music system, ice box, curtains, sofa seats, charging slots, ac blowers, mineral waters for a complete leisure road travel purpose.
Has sliding windows to let fresh air in and out and is packed vehicle which dosn't let water to come in rainy days.
HOW TO BOOK TEMPO TRAVELLER ON RENT?
Booking a tempo traveller on rent service in Delhi is so simple and fast with Tempo Travellers Hire as there is every way available to book a cab at our store as you can call our representative directly to get all the details regarding all travel services we offer, or fill an enquiry form to recieve a call back from us within an hour of your form submission. Our economical cab service is demanded by lot of tourists who have a group trip planned in advance, easily book our tempo traveller service for the long road ride. whether its a corporate trip or college trip our Tempo Traveller on Rent service remains up to date and we assure proper sanitization of our fleet to ensure full safety of our travelers with fully trained drivers to drive you to your destinations. Our office is situated in centeral Delhi which welcome our customers to book their cab physically by visiting us in our business hours.
Tempo Traveller on Rent for Rajasthan Trip
Rajasthan is the best tourist destination to explore the historical splenders which are visited by lot of tourists everyday beacause of their ultimate ancient architecture design and marbles used in these monuments and palaces. There are many cities in Rajasthan to visit in Tempo Traveller on Rent from Delhi with your group as every city of Rajasthan has unique attractions which can be visited to explore the uniqueness of these destinations. A complete Rajasthan Tour in 9 seater Tempo Traveller on Rent is a great way to spend your weekends with your family and friends as when you go with our Rajasthan Package we try our best to make you cover all the tourist destinations of Rajasthan in a luxury Tempo Traveller on Rent. We offer economical tempo traveller packages for places according to customers requirement which provides our travelers transperancy.
Best part of Rajasthan trip is you get to feel the joy of being in a city of sand which has tremendous traditional activities to entertain you and will definitely make you dance with them because of the pleasure one gets in seeing the tradition of Rajasthan. In Rajasthan People can address all the beauty in riding to different cities which all has its unique tourists attractions to offer from city of lakes to pink city, from city of sands to city of forts and palaces.
WHAT THINGS TO DO WHEN IN RAJASTHAN WITH TEMPO TRAVELLER ON RENT?
EXPOLRE JAIPUR
VISIT HAWA MAHAL
SEE JAL MAHAL
JAIPUR CITY PALACE
CHAWKI DHAANI
AMBER PALACE
JANTAR MANTAR
JAIGARH FORT
ALBERT HALL MEUSEUM
NAHARGARH FORT
EXPOLRE PUSHKAR
VISIT MAN MAHAL
SEE PUSHKAR LAKE
GURUDWARA SINGH SABHA 
BRAHMA TEMPLE
RANGJI TEMPLE
SAVITRI TEMPLE
PAP MOCHINI TEMPLE
SRI PANCHKUND SHIVA TEMPLE
PUSHKAR FAIR
EXPOLRE JAISALMER
JAISALMER FORT
PATWON KI HAVELI
MANDIR PALACE
JAIN TEMPLE JAISALMER
AMAR SAGAR LAKE
GADISAR LAKE
VYAS CHHATRI
DESERT NATIONAL PARK
BADA BAGH 
EXPOLRE CHITTORGARH
KIRTI STAMBH
VIJAY STAMBH
FATEH PRAKASH PALACE
CHITTORGARH FORT
RANI PADMINI'S PALACE
RATAN SINGH PALACE
GAUMUKH RESERVOIR
RANA KUMBHA PALACE
BHAMASHAH KI HAVELI
EXPOLRE UDAIPUR
CITY PALACE IN UDAIPUR
LAKE PALACE
MONSOON PALACE
LAKE PICHOLA
JAG MANDIR
FATEH SAGAR LAKE
VINTAGE CAR COLLECTION
HALDI GHATI 
JAISAMAND LAKE
EXPOLRE ALWAR
BHANGARH
NEEMRANA FORT
SARISKA TIGER RESERVE
BALA QILA
ALWAR CITY PALACE
GARBHAJI WATER FALLS
NEEMRANA BAURI
NEELKANTH
SILLISERH LAKE
EXPOLRE JODHPUR
MEHRANGARH FORT
KHEJARLA FORT
CHAMUNDA DEVI TEMPLE
SHEESH MAHAL
LAKE BALSAMAND
UMAID BHAWAN PALACE
MEHRANGARH MUSEUM AND FORTS
MANDORE
MEHRANGARH
EXPOLRE AJMER
ANASAGAR LAKE
FOY SAGAR LAKE
TARAGARH FORT GATEWAY
KISHAN GARH FORT
SONIJI KI NASIYA
JAIGARH FORT
VICTORIA CLOCK TOWER
NARELI JAIN TEMPLE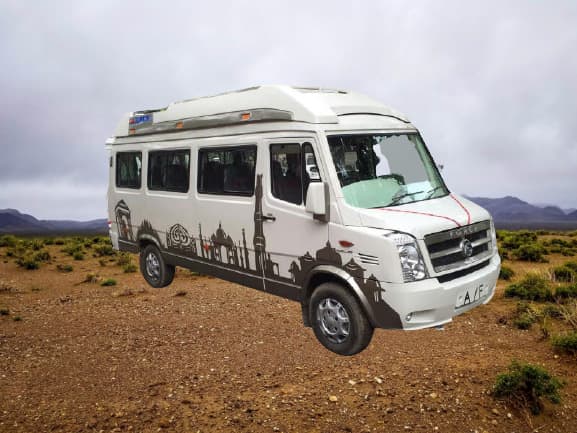 20 SEATER TEMPO TRAVELLER 
---
Seating : 20 Seats + 1 Driver
Driver Charges : Rs.. 500/- (Per Day)
Minimum Km : 250 km per day
Extra charges : State tax, Toll tax, Parking, Da etc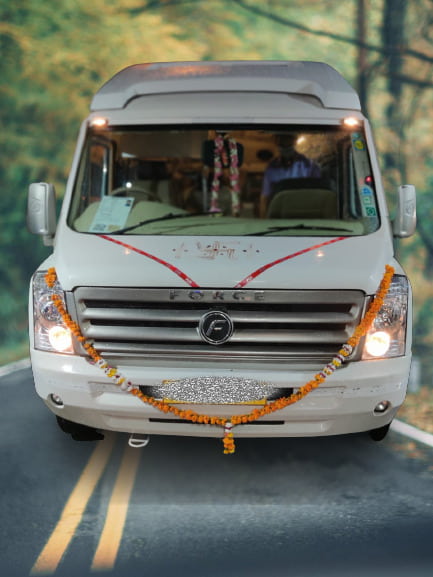 26 SEATER TEMPO TRAVELLER ON RENT IN DELHI
---
Seating : 26 Seats + 1 Driver
Driver Charges : Rs. 700/- (Per Day)
Minimum Km : 250 km per day
Extra charges : State tax, Toll tax, Parking, Da etc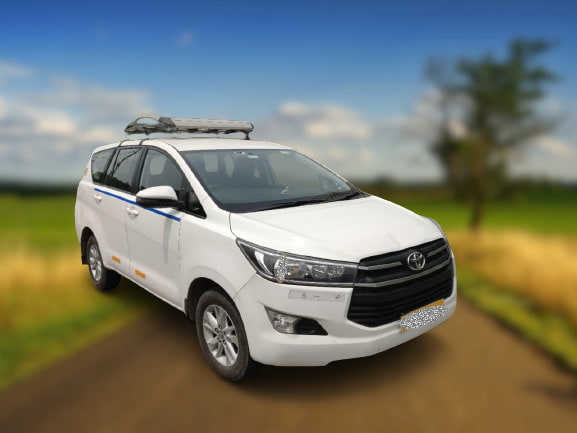 6 SEATER INNOVA CRYSTA
---
Seating : 6 Seats + 1 Driver
Driver Charges : Rs.. 300/- (Per Day)
Minimum Km : 250 km per day
Extra charges : State tax, Toll tax, Parking, Da etc