INNOVA HIRE FOR OUTSTATION
Vacations are well spent when you have reserved a personal Innova Car Rental Delhi package along with a driver for your trip. Since tourist destinations in India are nestled in gorgeous places away from the busy and packaed cities we reside in, one definitely needs a personal Innova Car on Rent from Delhi to move to these peaceful places surrounding the region. Hiring the toyota Innova for a long Journey that too with a driver, comforts you in enjoying the ride fully and  getting to roam around the city with ease. Outings with your family in an Innova car is a great deal for quick travel and reaches you to the destination in less time. Innova on Rent in Delhi has been in demand from many years by the tourists having around 3 to 7 members in the group, as they found Toyota Innova a much relax able vehicle for their trip. Riding in innova car for an inter-city tour or outstation trip has always been leisure for travelers who are limited in number and willing to appreciate the beauty of the journey with their loved ones. Not only this, after reaching the destination it gets manageable to various  tourist attractions of the place with the promising Innova Rental Delhi service.
INNOVA CAR RENTAL BY TEMPO TRAVELLERS HIRE
Tempo Travellers Hire is a supreme innova cab provider in Delhi. Tourists are at advantage due to our Innova Car Booking For Outstation Premium Service which is a comprehensive travel package for a weekend tour or booking Innova for outstation by customizing a trip yourself. We as a favourable outstation taxi Service provider present various road travel services and Innova on rent in Delhi is one of them. We have attended to a lot of travelers for many years with our certified travel services. We provide clean and well maintained cabs which you will surely approve of, whenever you will hire our toyota Innova car Rental Service.
SEATING AVAILABLE IN INNOVA FOR OUTSTATION
Toyota Innova is a luxury suv which furnishes ultimate contentment to the riders whether travelling to hilly or plane dusty region. A trip in Innova Car Rental with driver makes it easy for you to travel fastly to your destination as Tempo Travellers Hire is a budgeted Innova for outstation provider for a pocket freindly trips and has skilled drivers and new outstation cabs to drive you smoothly for your vacations. Visitors arriving Delhi approach us for our decent innova car rental service and to avail our discount offers on Car Booking For Outstation. Innova has Two seating options :-
Why Choose 6 seater innova booking for outstation?
Innova car 6 seater is a spacious suv to travel for a inter city tour. It delivers complete solace to riders and possesses a music system, icebox, ac, mobile charger to keep you fully occupied throughout the tour. This is to quote,  6 seater innova on rent can effortlessly accommodate 6 people easily excluding the driver.
7 Seater Innova On Rent In Delhi
Innova also comes with 7 seater variant which can easily carry 7 people comfortably excluding driver and is great for group, planning to travel jointly.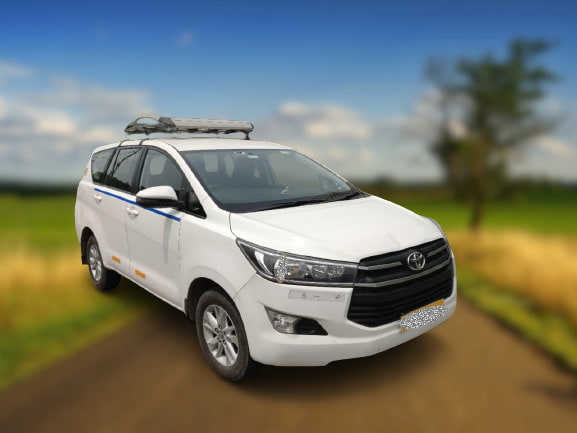 ECONOMICAL OUTSTATION CAB BOOKING
Toyota Innova is proven to be fair outstation cabs to hire for inter-city and intra-city tours with family and friends who are planning to move to other places for few days to spend some quality time together, away from the daily routine life. People love to travel to distinct places of India to uncover peace and immense joy. We regularly face demand for Outstation Cab Booking throughout the year as travelers are interested to Hire innova for outsttion with a driver for an amazing journey fun-filled journey.
KEEPING IN MIND WHILE BOOKING INNOVA FOR OUTSTATION
Go for a local Cab Booking in Delhi provider company situated in that particular city.
Do check the profile of the company first.
Clarify the Fare and get details about the inclusive visits.
Ask for payment details and mode of payment available.
Do ask for the receipt after booking.
BENEFITS OF CAR BOOKING FOR OUTSTATION
Hire cab for outstation fetches you many benefits as your luggage remains safe through out the journey  and you can relax in the car anyway you like. Also, when you rent a car for outstation, you get wide pickup options available for you and you can visit anywhere and anytime.
Good travel service provided by TEMPO TRAVELLERS HIRE. Booked Innova Rental Service at much affordable price
Had a great trip with my group, will definitely do Outstation Cab Booking with them again.
FREQUENTLY ASKED QUESTIONS